Consumer Choice Award
With a portfolio full of successfully developed projects, Vision Design has quickly become the preferred local choice for web and graphic design services in Hamilton and has been honored with the Consumer Choice Award for the ninth consecutive year.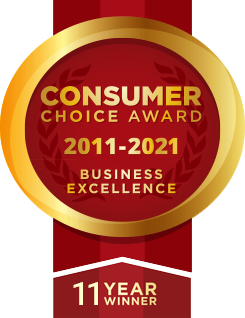 How Consumer Choice Award Works
The unique and original selection process was initiated in 1987 and designed with the intention to determine the local Companies that display positive business conduct beneficial to their community. As it is imperative that only the Companies found to be publicly pleasing are honored by the award, the Consumer Choice organization has acquired assistance from a Canadian independent research firm. The study's rigorous process ensures both Companies and consumers be evaluated yearly in order to understand current opinions and perspectives of the marketplace. The organization has gained the services of the leading Canadian-owned independent research firm Leger Marketing to power the study as by being members of the Worldwide Independent Network (WIN) of market researchers, they are well suited for the project.
Our Gratitude for Honourary Recognition
Vision Design would like to express its sincerest gratitude for having received this honourary designation. We are proud of our dedicated and diligent team, as well as the many business relationships we have with industry professionals who supports and contribute to our work. Without them, earning and maintaining an award status for 6 consecutive years simply would not be possible. Vision Design is pleased to be an award winning company in the website design industry.